The Most Important Ingredient
Balancing a whole food diet for your dog just got easier!
Dr. Evelyn's Nutrient Blend is a non-synthetic feeding supplement that is designed to balance two pre-formulated recipes made by Dr. Evelyn! These recipes can be accessed for FREE right here on this website!
Dr. Evelyn's Nutrient Blend
Made in an NASC Certified Facility
Plastic Neutral Certified Product
*All the ingredients are organic but the warehouse where they are mixed is not yet certified organic.
Whole Food Diets are Best for Your Dog.
However, balancing them without synthetic nutrients is no easy task.
---
My Recipes
Homemade recipes created by me designed for your healthy dog! These recipes offer whole food nutrients, leaving you confident that your furry friend is receiving all they need for a long healthy life!
These recipes are perfect for dogs that are healthy and seeking a whole food diet. IF your pet has health challenges please consider contacting me for a diet consultation that would better address their specific health challenges.
Two Main Recipes
Cooking at home for your pet should be easy. That's why, when Dr. Evelyn designed these recipes, she created two different protein options, individualized feeding instructions to accommodated dogs of all activity levels and preparation instructions for both cooked and raw feeders!
---
Example:
Do they do best when fed a cooked diet?
Guaranteed Analysis
Here is a visual of how it is broken down.
That adds up to a total of 12 individualized recipes!!
Now that's a lot of recipes! More recipes means a more individualized meal for your dog.
Take our Recipe Recommendation Quiz to see which recipe works best for your dog!
---
How it works
Alright so now that you have your individualized recipe you might be wondering "How does this whole thing work?"
---
No seriously go take the quiz. It is only 5 questions long and will take you 60 secs tops. Once you press "Receive Free Recipe" you will get an email containing your pet's recipes and additional information about:
Metabolism
Preparing Raw Foods
What to Expect When Feeding Raw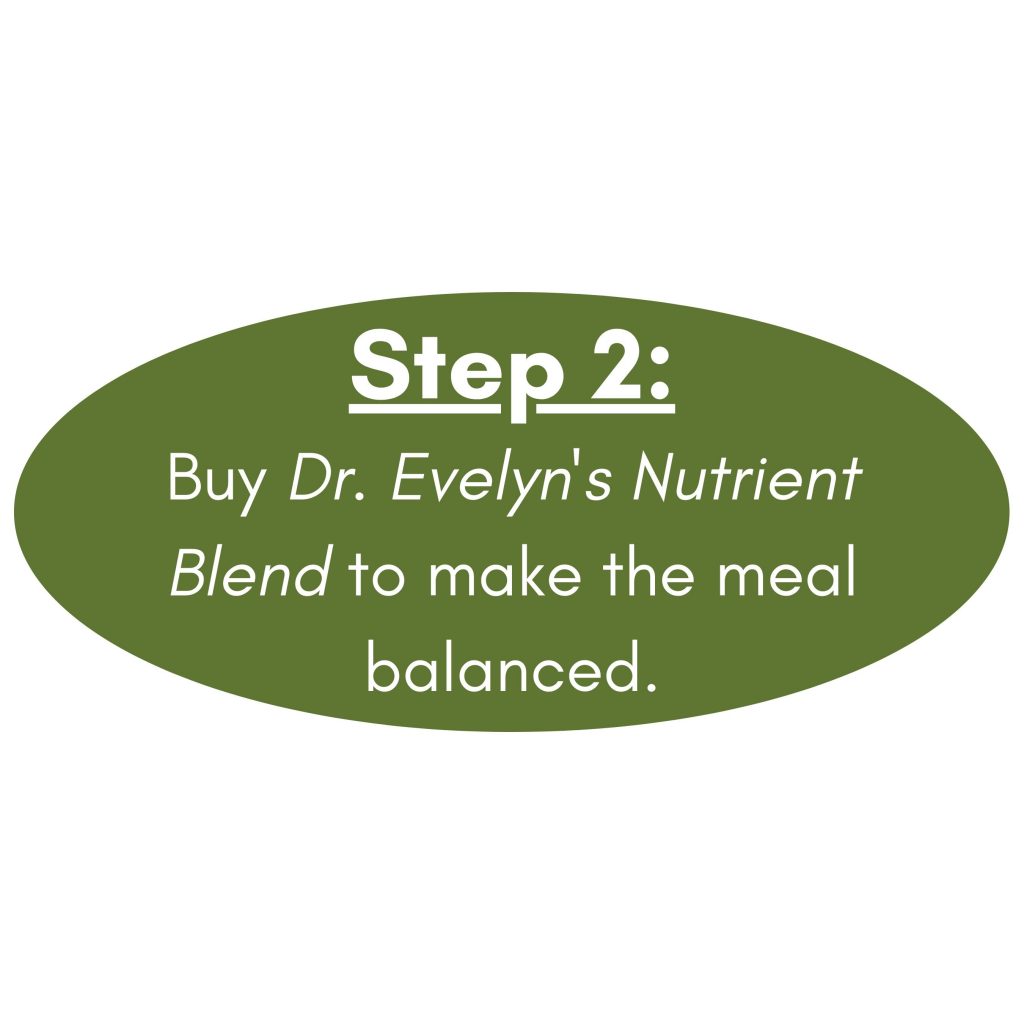 You've followed the recipe instructions and have all your ingredients prepped and ready to mix! Add 1.5 Tbs of Dr. Evelyn's Nutrient Blend and you are done!
---
FAQs
How much will this cost per day? How long will it last?
The cost per day of Dr. Evelyn's Nutrient Blend can be as low as $0.53 per day! Food cost is up to your local suppliers and grocery stores but you can follow this link to a guide that shows the cost per day and how long a single bag will last of Dr. Evelyn's Nutrient Blend.
Where can I find the specific nutritional information for these recipes?
Right here:
Nutritional Information for Canine Adult Beef Recipe
Nutritional Information for Canine Adult Turkey and Salmon Recipe
Where do you source your ingredients?
All of our ingredient sourcing can be found here.
How eco-conscious is this product?
If you follow me at all on social media, you will know that sustainability is a huge focus of mine.
Certified Plastic Neutral 
This product packaging is made of rice and Animal Essentials is removing as much plastic from the environment as they put in, while at the same time supporting dozens of families and the communities they live in.  To learn more, please Click Here.
Friend of the Sea 
The kelp and Seaweed Calcium are all sustainably harvested from the cold, clean waters of Iceland, by the most sustainably managed fishery in the world. We support the mission of Friend of the Sea, as do our suppliers. To learn more, please Click Here.
Are you looking for a more personalized experience?
Head on over to my Consults page to learn more about my services and how you can have a one-on-one consult with me to create a custom diet for your pet.